Calgary is turning into a karaoke bus
September 21, 2022
---
A Canadian public transport company has turned to a unique bus idea to generate more smiles from customers.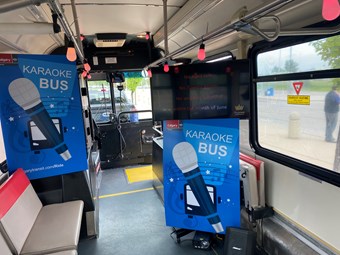 Calgary Transit had fun with their karaoke bus
Canada's Calgary Transit has been looking for ways to improve the commute to work for years. It may have hit the right note with its most recent study.
On July 6, the Alberta-based transit agency introduced a karaoke bus. Parked at Brentwood Station, the vehicle allowed customers to hop on board and take to the stage to belt out some of their favorite tunes.
Calgary Transit communications and information director Stephen Tauro says the initiative has been a reward to many Calgary citizens who have struggled in recent years.
"After two tough years during the pandemic, our ridership has suffered a bit," Tauro told ABC.
"Clients have left our services because they have been working from home.
"We thought we'd have a little fun and try to win back passengers and new customers through this initiative by generating interest and attracting people to our services."
This isn't the first time Calgary Transit has launched a rather unique bus design. Prior to the karaoke bus idea, the agency had a puppy bus, in which they outfitted a bus with artificial grass and worked with a local rescue group to get puppies on board for customers to cuddle.
All of this action takes place on the Calgary Transit information bus dedicated to public engagement. According to Tauro, the agency outfitted the entire bus with a different seating configuration before adding power and a television to the bus's interior.
According to Tauro, fitting out the karaoke bus was simple and inexpensive. The information bus has been around since 2014, and Calgary Transit welcomes the opportunity to use the vehicle for activities like karaoke.
"It turned out fantastic," says Tauro.
"We didn't know what the reception would be like, but when we pulled up on the bus, there was a line of people waiting to get on.
"That first attempt at the beginning of July went really well."
The karaoke bus is still in operation. Tauro says the bus operates on random routes throughout Calgary, which means customers may not know they're using a service designed for smiles and singing until they walk through the doors.
Calgary Transit will keep the bus operating throughout the Canadian summer and will run once a week until the end of daylight saving time. Once the karaoke bus stops running, Tauro says Calgary Transit will start planning its next idea.
"It's a temporary outfit," says Tauro.
"We have other things planned to convert the bus into other activations.
"We're looking at different ways to spice up the journey. We have some ideas waiting to be implemented."
Tauro says the karaoke bus idea has been successful. The feedback from customers has been consistently positive, he says. Considering Calgary Transit just wanted to put a smile on people's faces and Tauro says the karaoke bus served its purpose.
"We tried to find different ways to engage customers and make their journey more than just a convenient journey from A to B," says Tauro.
"The karaoke bus was about community building and having fun.
"With a karaoke bus that runs within the community, people have been riding on it with neighbors and friends, so we hope we got smiles and cheers."
Subscribe to our newsletter
Sign up to receive the ABC e-newsletter, digital magazine and other offers we share with you straight to your inbox
You can also follow our updates by liking us on Facebook.