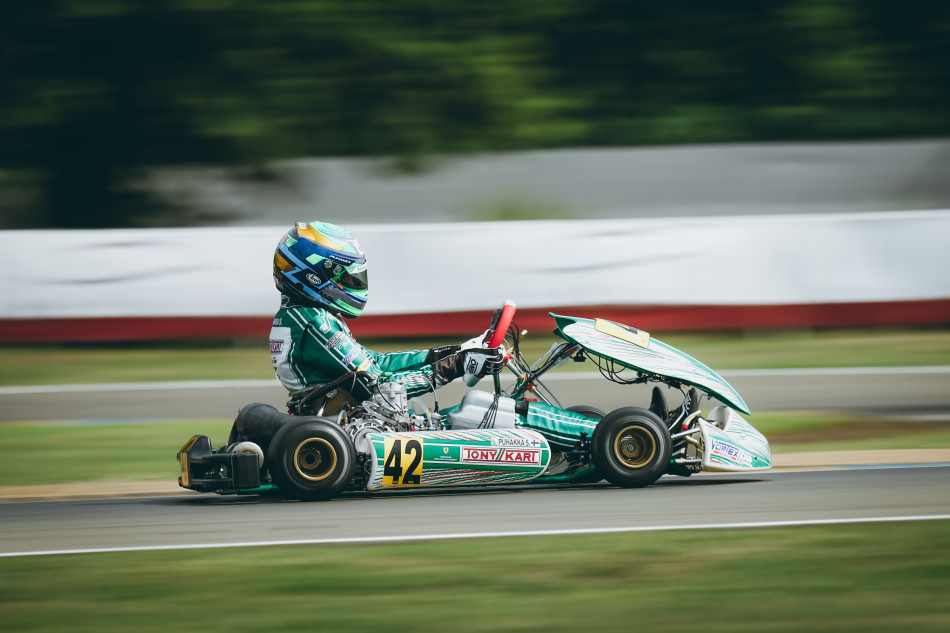 The changing skies at Le Mans contributed to several unexpected developments in the qualifying heats of the Mondokart.com FIA Karting event currently taking place in the Sarthe region of France. A series of short showers on Saturday morning did not help all participants. However, the verdict has been passed. Simo Puhakka (FIN) took the lead in KZ. Arthur Carbonnel (FRA) took the top position in KZ2. Jeroen Bos (NLD) remained the leader of the KZ2 Masters while Mark Dubnitski (EST) took the lead in the FIA ​​Karting Academy Trophy at the last moment.
The legendary Le Mans rain lived up to its reputation and caused numerous grip changes on Saturday morning. Driving on slick tires in the rain or on wet tires on a fast-drying track was the situation for many of the competitors. Choosing the right tire pressure was a mystery for the mechanics. In these conditions it was difficult to avoid mistakes or poor performances. The other element to consider was tire management. Tire wear is no joke at this track and the competitors thought of preserving it, especially in KZ2 where seven heats and one super heat must be run on six slicks.
It should be noted that there were already many spectators around the track on Saturday and a much larger audience is expected on Sunday. Several influential YouTubers are following the event on-site in hopes of trying out one of these powerful geared karts. The FIA ​​Karting Media Department has issued a record number of accreditations, including for some TV channels. The final will be broadcast by Eurosport via their app and live streaming will continue on Motorsport.com.
50 qualifying runs have been completed since Friday afternoon. The Super Heats conclude on Sunday morning to clarify the hierarchy of the 36 finalists ahead of the afternoon's crucial races. With seven runs per driver, the KZ2 category ended in floodlights at nightfall on Friday and Saturday.
KZ: Puhakka leads the intermediate ranking
Thanks to two wins and a second place, the Finn Simo Puhakka took the lead at the end of the qualifying heats of the Mondokart.com FIA Karting World Championship – KZ in Le Mans. Viktor Gustafsson of Sweden did the same, moving up from eighth to second place, tied with the leader. Frenchman Jérémy Iglesias confirmed his great form and moved up from 15th to third place. Pedro Hiltbrand (ESP) came back to a convincing fourth place ahead of the fast Noah Milell (SWE). The Pex brothers (NLD) followed in sixth and seventh place, Jorrit (+10 pl) ahead of Stan (+16 pl). After a complicated second heat, which he finished 16th, Emilien Denner (FRA) found himself eighth despite a win and a second place. Lorenzo Travisanutto (ITA) maintained his ninth place ahead of Lorenzo Camplese (ITA). Senna van Walstijn (NLD) remained eleventh while Tuukka Taponen (FIN), one of the absolute fastest, dropped from seventh to 12th place.
KZ2: Carbonnel takes first place
German pole setter David Trefilov has crossed the finish line as the winner six times in a row but was disqualified from the final race for weighing less than the prescribed minimum, which dropped him to 12th place. Frenchman Arthur Carbonnel led with three wins and up five places. The Swiss Samuel Luyet followed him in second place, tied with the Spaniard Jorge Pescador (+10 places). Two-time winner, young Italian Cristian Bertuca finished fourth and young Briton Arvid Lindblad fifth with three wins. Valentin Fritsch (DEU) was sixth ahead of three-time winner Danilo Albanese (ITA). Felix Arnold (DEU), Norton Andreasson (SWE) and Robert Kindervater (DEU) completed the top 10.
KZ2 Masters: Bos maintains lead despite return of Fiault and Letailleur
The qualifying heats of the FIA ​​Karting Masters International Super Cup – KZ2 were approached with great enthusiasm by the drivers aged 35+ who were delighted to take part in this first event. Six of them won. Dutchman Jeroen Bos, who took pole position, maintained his lead with a first place and two convincing second places. However, two Frenchmen came closer, Charles Fiault and Thomas Letailleur, who gained seven places. Davide Fore' (ITA) lost a lot of ground in his first run, in addition to a penalty during the start procedure. That's why he dropped to 15th place in the ranking. Nick De Bruijn (NLD), who also won a heat, was seventh. Frenchman Johan Renaux finished fourth ahead of Belgian Thierry Delré while Eric Ramon (FRA) moved up from second to sixth place. Meanwhile, Mirko Mizzoni (ITA) improved 15 places to ninth place and Arnaud Roséo (FRA) improved 10 places to 10th place.
Dubnitski takes over the leadership in the academy
The third round of the FIA ​​Karting Academy Trophy was full of surprises. In qualifying it was the category most affected by the rain and this continued into Saturday morning's heats. There were six different winners in the six qualifying runs. The increasingly competitive Estonian Mark Dubnitski managed to win in the very final meters of the final race to take the lead by a nine-place margin over South Africa's Nikolas Roos. Pole Iwo Beszterda was one of the main protagonists of the competition. He finished third with the same score as Roos ahead of Aleksandar Bogunovič (SVN) in fourth place. Austria's Nando Weixelbaumer put in a very good performance with a consistency that allowed him to keep his fifth place. Meanwhile, Guillaume Bouzar (LUX) improved from 14th to sixth ahead of Henry Joslyn (GBR), who climbed 10 places. William John Riley Go (PHL) secured ninth place. Winner of his first race, poleman Arthur Dorison (FRA) failed to start the second race and finished 12th, a long way from his goal. Thibaut Ramaekers (BEL) made up some ground in 24th place. Matias Orjuela (COL), who was 41st in qualifying, finished 25th.
Preliminary program for the Le Mans race
Sunday, September 4th
08:30 – 10:10: Warm up
10:35 – 13:05: Super Heats – start of the live stream
14:05 – 14:35: Presentation of the finalists on the pre-grid
14.40 – 17.25: Finals
17:40 – 18:25: Panels
The Le Mans event can be followed on the official FIA Karting Championship mobile app and on the website www.fiakarting.com.